If you're installing a Sense Home Energy monitor with Flex add-on sensors to support a 400A split-service system, it's possible you may require an optional extension cable for your Flex sensors.
The cable length of the stock sensors is 46". Extension cables are available in 4', 12', 25', and 40' lengths. They can be coupled up to 80'.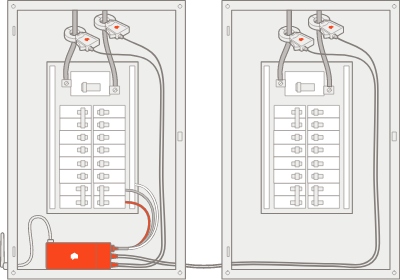 The cables must feed between the panels and extend up to the incoming mains in the second panel (see illustration).
As an easy way to measure the required cable length for your setup, take a piece of string and extend it from the location of your Sense monitor to where the sensors will connect in your second panel, following the illustration above. Be mindful of any detours that the cable must take from panel to panel, like if it needs to be routed around a junction box or another electrical panel.
We recommend adding 5-10 inches to your measured length to add slack for cable routing and management.
To purchase extension cables, click here.

Follow local code and best practices for interconnecting multiple electrical panels.