Main sensors
The main sensors, used to monitor the energy consumption, should be placed on the main service leads, with the Sense logo facing towards the power source. To make it easier for the monitor to match up the polarity, phase, and current, both sensors should be facing in the same direction. Exceptions can be made in the event that you are limited to space within the panel. Please contact Sense Support if you need to discuss your options here.
Sense add-on sensors
Your licensed electrician can connect any pair of Sense current sensors into the middle port of the Sense monitor to track one of the following:
Note: Flex add-on sensors are our split-core sensors intended for multiple energy monitoring uses, not a Rogowski coil. In the past, a second set was called "Solar Sensors" as they were originally used to support solar monitoring, but they can now be used for various applications.
Sense Solar add-on sensors should be placed directly onto each leg of the incoming solar feed (A/C side only). They must be matching in the direction so that the polarities match up during the in-app solar setup. As a reference, the solar sticker should be facing toward the breaker, and the Sense logo should be facing towards the solar source. This orientation is opposite that needed at the mains. See the illustration, below.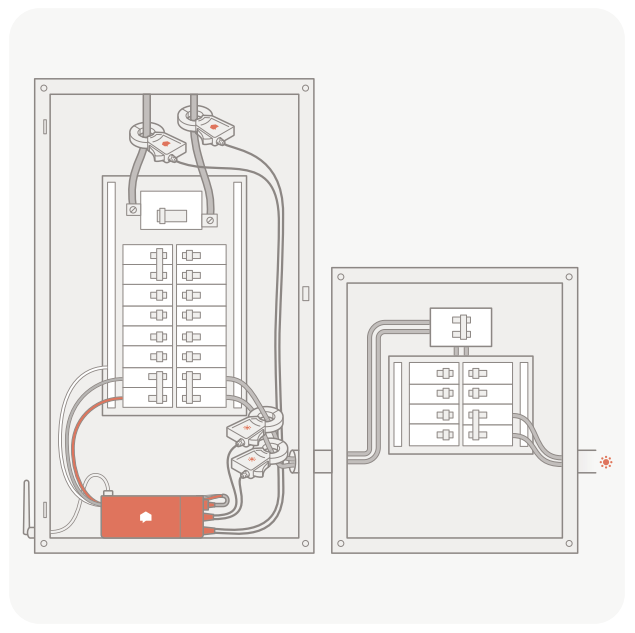 Sense Flex add-on sensors are also inserted into the Sense monitor's middle port and so cannot be used with solar monitoring. As with the main sensors, they should be attached on service leads with the label facing towards the power source they are intended to measure whether that is the in the main panel box or in a secondary panel box.
Note: Cable extensions are available for solar or flex setups that require more space. Cable extensions are available in several lengths up to 40 feet, and the extension can be as long as 80 feet by doubling the longest cable.
To purchase Sense add-on sensors or cable extensions, click here.